VETERANS LEGAL INSTITUTE WELCOMES NEW BOARD MEMBER CINDY GOSS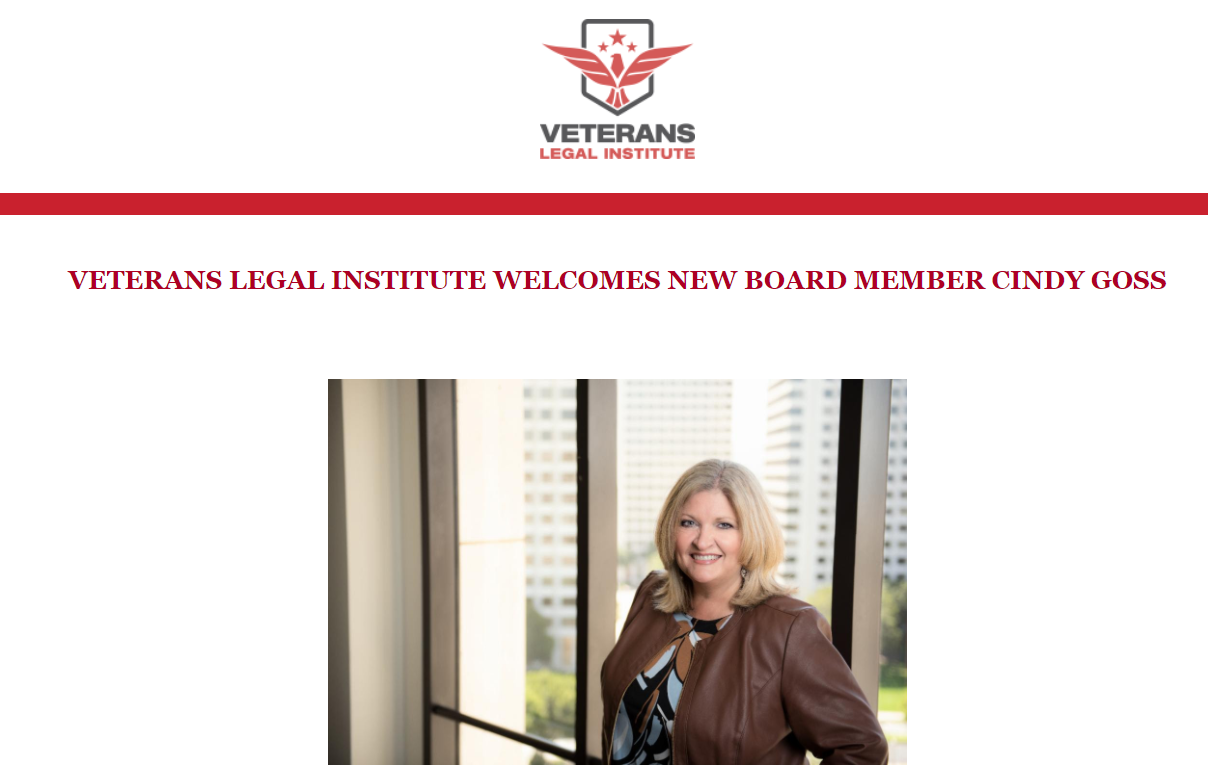 Cindy Goss, Founder and President of Propel Business Solutions, Inc., joins the board of Veterans Legal Institute. Propel Business Solutions is a leading, branding and digital marketing firm recognized for building, strengthening, and transforming brands for law firms, major corporations, professional service and consumer product firms.
Antoinette Balta, Executive Director and Marc Hankin, VLI Board Chair, recently shared, "We are delighted to have Cindy join our board, considering her branding and digital marketing experience, her deep connections in Southern California, and her desire to help support Veterans in need."
Cindy grew up in a military family, as her father served 23 years active duty in the United States Air Force. Her husband, Dudley Goss, is a Navy Veteran and together they established and led military outreaches at Camp Pendleton, working closely with base chaplains to establish marriage enrichment classes.
Cindy also recently served two terms as a board member for Second Harvest Food Bank and continues to be active helping those struggling with food insecurity in OC. She was nominated in 2019 and 2020 by her peers and colleagues for the Orange County Business Journal's Women in Business Award. Cindy has served as a mentor for the National Association of Women's Business Owners (NAWBO), and she is an Advisory Member for Pacific Justice Institute.
We are thrilled to have Cindy join the VLI board and are grateful for her desire to serve Orange County Veterans.
Are you looking to REFRESH, REFINE, AND GET YOUR BRAND RECOGNIZED IN 2021? Our creative team is ready to help you discover right type of strategy that will lead to greater sales, new customers, and long-term growth. Contact us today or visit our Capabilities Page at https://www.propelbusinesssolutions.com/capabilities to learn more.
**Propel Business Solutions is recognized for their strategic brand development, website design, digital marketing, social media, and video productions. Propel's clients includes law firms, for profit and non-profit organizations, as well as pre-IPO and M&A. To learn more contact hello@propelbusinesssolutions.com.