Behind the Design – DO NOT DUI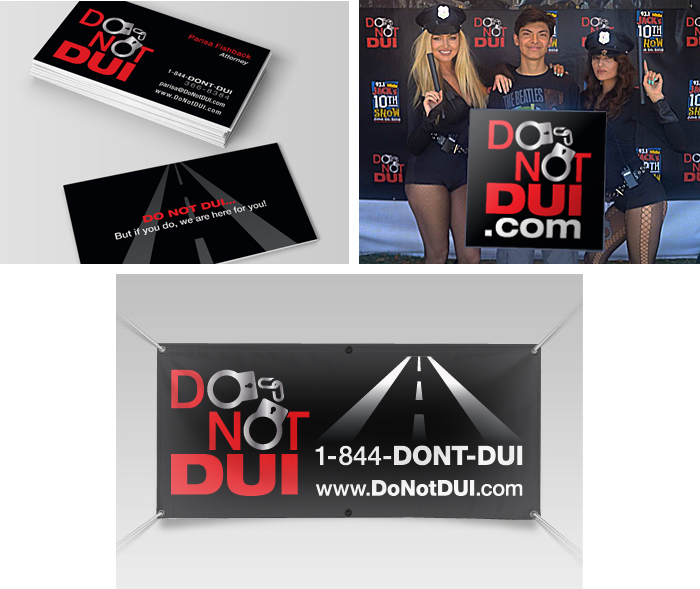 With a purposeful and well thought-out strategy behind it, graphic design has the potential to create new business, change the way people think about your brand and even enhance the way they live their lives. This couldn't be more true for one of our latest design projects, "DO NOT DUI" – an important new branding project Propel Business Solutions recently completed for one of our clients.
For this campaign, our designers wanted to capture the essence of the new "DO NOT DUI" firm and important services they provide their clients. Brittany, Propel Business Solutions' Art Director utilized bold, eye-catching imagery, dramatic colors, and foil elements for a bold visual effect. One of the most important and challenging aspects of the design, was getting all of these elements to come together in perfect balance. In the end, the vivid black/red/silver colors and creative use of handcuff imagery for the letter "O," made the design memorable and subliminally conveyed the negative impact of driving under the influence.
When speaking of Propel Busienss Solutions' overall design process, Propel's client Parisa Fishback, Esq. of Fishback Law Corporation said:
"When forming a new legal firm, I realized we had to have compelling visual images to influence our target clients. I knew the quality of the branding elements needed to be top notch, so I turned to the pros rather than taking a home grown approach and it proved to be a prudent decision on many levels.
Propel Business Solutions created a new logo, business card design, banners and event materials and the creativity of the graphic design played a huge role in successfully launching the new firm and the quality of the design helped made us a standout at a major event. The design was bold and dramatic, much like the subject matter of our offering, and it clearly separated DONOTDUI from competitive services.
In hind-sight, it was great decision not to cut corners on creativity and quality, as we've seen a high ROI on the investment for getting our visual design just right."
Even if you're not a professional designer yourself, you can't help but notice how important cutting-edge design is in building brand strength and growing a business. Investing in your company's branding elements and overall image just makes good business sense, considering effective branding plays a huge role in driving competitive advantage, particularly in a digital world.
At Propel Business Solutions, we believe compelling corporate collateral is also an important key component to a company's overall marketing success, since it communicates your unique services and value to your target clients. Our digital and print strategies and processes are highly collaborative and we work closely with our clients to deliver the most relevant and results-generating materials that motivate prospective clients to do business with you.
Would you like to experience how professional graphic design can make your company stand out from the pack and drive competitive advantage? Visit our Capabilities page to see how Propel Business Solutions can enhance your company image. http://www.propelbusinesssolutions.com/capabilities/